PHILHEALTH ePAY

We are pleased to inform you that we at UnionBank of the Philippines has entered into specialized collection programs with the PHILIPPINE HEALTH INSURANCE CORPORATION(PHIC) designed to provide you with greater convenience and value-added benefits in the settlement of your monthly employer contributions. We refer in particular to the Philhealth E-pay Premium Contributions Program via UnionBank's ONEHUB.GOV.

The Philhealth e-Pay provides electronic messaging facility for efficient transmission and processing of your Philhealth contributions. With the Philhealth e-Pay, you would no longer submit your employee listing manually to the PHIC branch and separately remit payments by going to the bank. With the Philhealth e-Pay, your employees' contributions will be posted monthly and within a matter of days, thus allowing for faster processing of your benefit claims.

HOW DOES IT WORK?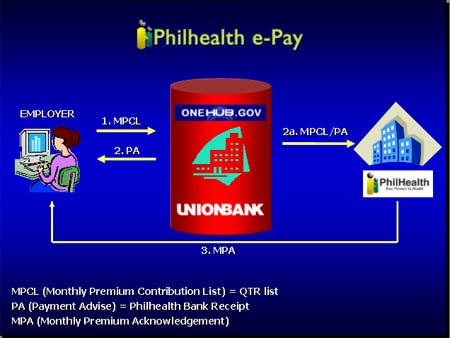 UnionBank's ONEHUB.GOV platform covers the electronic submission from the employer to Philhealth of the Monthly Premium Contribution List (MPCL) file, and it will automatically validate the file and display the status of Payment.

Once the authorizer approves the transaction, a corresponding Payment Advice (PA) will be sent to the Employer. If the transaction fails, the system will prompt the authorizer for the error confirmation and provide reason why the transaction was rejected.

At the end of the day, ONEHUB.GOV will forward the MPCL and PA to Philhealth. Philhealth will now process, validate and send a corresponding Monthly Payment Acknowledgement (MPA) to Unionbank and to the Employer.

Unionbank's ONEHUB.GOV system automatically debits the account of the employer once the transaction has been approved. In turn, it will also credit the account of Philhealth on real time basis.

Your Key Advantages

By enrolling in the Philhealth e-Pay, your company would receive the following benefits:


Up-to-date posting of contributions and payments within 24 hours


Immediate reconciliation of reports and remittances


Immediate availment of Philhealth benefits (i.e., hospitalizations)


Convenient mode of payment


System will view all pending payment


Corporate Policy Enforcement

Defines transaction limits per user


Limit the users to pay only PHIC


Security Measures
Safeguards against erroneous double-payments of same files


Fool-proof Registration that Enforces your Corporate Approval Policies


Secure, Tried & Tested Internet Financial Transactions


256-bit strong Secure Socket Layer (SSL) Encryption


Verisign® Secure Server to prevent any unwarranted transactions


OBJECTIVES OF THE PHILHEALTH e-PAY PROGRAM
To improve delivery of service


To provide convenience to PHIC partners


To reduce manual operation


To speed up processing and updating of employee data and remittances


To immediately reconcile and post PHIC contribution


We take pride in being the first and only bank to offer this PhilHealth e-Pay service in the market.